Deep Creek Lake Vacation Rental Home
Deep Creek Lake, Garrett County, Maryland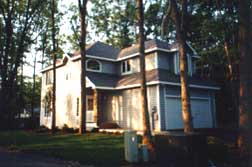 Welcome to Sunrise Cove 4, our vacation rental home at Deep Creek Lake! Located in the western most part of Maryland, Deep Creek Lake is a true four-season vacation area. Our home is located in a quiet, private neighborhood on Beckman's Peninsula at the southern part of Deep Creek Lake, and is just a few steps from the waterfront area and boatslip.
If you are interested in renting our home for your vacation or short get-away, please contact Marcene Huebner at rmhuebner@gcnetmail.net , or phone (301) 387-9593.
For more information on our vacation rental home, the Deep Creek Lake area, or rental rates, please follow the links. Sunrise Cove is a wonderful place to spend your Deep Creek Lake vacation. We look forward to renting to you!

Site created by Ruth Seib.
Copyright © 2001 by Sunrise Cove 4. All rights reserved.
Revised: April 02, 2001